I went to school early this morning to attend parent/teacher conference for my children. I laughed, I cried (happy tears), and as I was leaving I noticed this bulletin board inviting students to write what they are thankful for. I just couldn't resist adding a comment of my own.
Sundy mentioned in the comments on Monday's post that their family hangs a poster by the front door, and every time they leave, they stop to record something that they are thankful for, even inviting visitors to get in on the act. I think that is a pretty neat idea, and I was happy to see it implemented at my kids' school.
Anyway, on Monday evening, we had nothing planned for FHE, so I cracked open the November Friend which had just arrived and started reading the first article to them called "A Grateful Heart".
In it President Henry B. Eyring teaches us that "We must ask in prayer that God, by the power of the Holy Ghost, will help us see our blessings clearly. He can help us be grateful for blessings we take for granted."
He continues, "Giving thanks in prayer can allow us to see the magnitude of these blessings and all of our other blessings and so receive the gift of a more grateful heart."
This gift of a more grateful heart is definitely one that I would like my family and I to receive during this season of thanks. So, w
e knelt down together as a family and each offered aloud a prayer asking Heavenly Father to help us have a grateful heart. Then we thanked God for as many blessings as we could think of and tried not to ask for anything for ourselves.
This was a very simple FHE lessons, but a powerful one. Can you imagine what the world would be like if all families knelt down together to offer thanks to God...each person praying in turn together...even just once? It certainly has made a difference for us, and my children all said that they felt the spirit as we prayed together.
I am thankful for the words of the prophets brought straight to our door through The Friend magazine!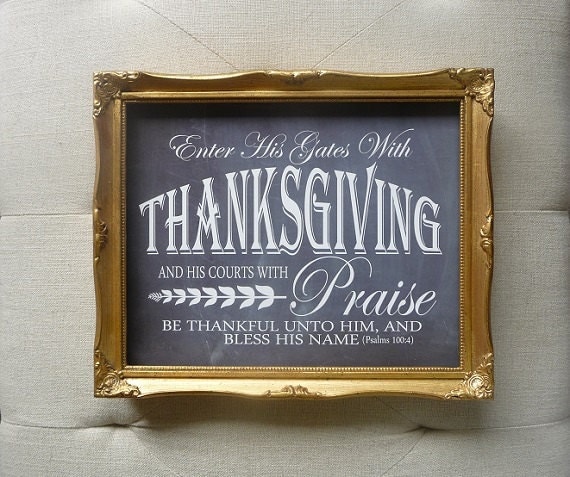 Now I said there would be a giveaway today, and here it is! I stumbled on this Thanksgiving-themed print on Etsy from IAdoreDecor...and I did indeed adore it. And the shop-owner has been kind enough to offer this print as a giveaway for you today.
I love this idea of "entering His gates" with Thanksgiving and praise and blessing His name. Being "in his gates" sounds like a protected and calm place to reside. In his recent conference address, Elder Bednar taught that "A grateful person is rich in contentment. An ungrateful person suffers in the poverty of endless discontent."
I don't know about you guys, but I want to enter His gates dripping with the "richness" of being grateful for all I have received and not live my life in the poverty of what I think I lack.
It's a fairly easy change that can alter the course of our day...and ultimately our lives.
Anyway, if you'd like to win the print above by IAdoreDecor, just leave a comment on this post telling me something you're thankful for today. And be sure to check out her other cute prints.
We've already said family and The Book of Mormon on a previous post, so let's stretch ourselves and try to think of something that we might sometimes forget to be thankful for...and leave it in the comment. It can be silly or serious...big or small...subtle or obvious blessings.
I will announce the winner tomorrow!
PS - Looking for more Thanksgiving ideas? Check out these posts: